Visual Checkout Powered by Vision AI
Scan by Appearance. No Barcode Needed
Unlock the Potential of AI to Supercharge Your Business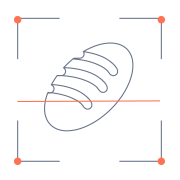 Viscovery's Visual Checkout solution empowers retailers to automate their existing checkout system, reducing labor expenses and minimizing customer wait times. Using a cost-effective camera, Viscovery achieves recognition of multiple items for checkout within 1 second.
We Simplify the Adoption of Computer Vision AI for Retailers Across Various Industries
Object Recognition Powered by Viscovery Self-Supervised AI
( Tap on the items to view recognition )
Customer Success Stories: Real People, Real Experiences
"When it comes to Christmas or Valentine's Day, the customer count surges two or three times, leaving cashiers swamped. With the deployment of Viscovery's AI-powered recognition system, cashiers can adeptly manage the influx of customers. They can effectively hand over the repetitive identification task to AI, freeing them to prioritize superior customer service and improve customer satisfaction."
"The convenience of using the Viscovery AI system is truly impressive. It can efficiently identify a wide range of items such as unpackaged bread, packaged pastries, salads, light snacks, and even bottled sodas, resulting in a significant reduction in recognition time of 80-90%. This technology helps us save approximately 50% of the time spent at the checkout counter."
"The deployment was as simple as plugging in a barcode scanner. We were able to get the AI system up and running with our iPad POS after receiving Viscovery's camera kit. The AI recognition system is so easy to use that our store clerks picked it up quickly and started using it right away."
"It's absolutely impressive to see how the AI recognition results can be instantly sent to our checkout system. It's so much faster compared to manually selecting each item for checkout! Viscovery's AI helps us reduce 75% time for training new cashiers since the AI system is much faster and more accurately than a human does."
"It used to take us 1 to 2 months to train an employee to become a cashier. Since integrating Viscovery's visual recognition system with our POS, the training period has been significantly reduced to just 1 to 2 weeks. This is an incredibly valuable improvement. Also, when there are new products coming up, our store staff no longer need to spend time memorizing the names of the new items."
The info above will only be used for marketing purposes.